Hardscape Fence and Outdoor Design Contractor Serving Volusia County and Surrounding Areas
Allphases Fence and Pavers is a local experienced company at the forefront of the Outdoor Design and Construction Industry.

We provide you with honest, reliable designers, installation, and maintenance for ALLPHASES of your residential/commercial fence, brick pavers, retaining walls and landscaping needs.


Fencing & Paver Services
We enjoy what we do and are constantly striving for excellence and warranty our work from the ground up. Allphases Fence and Pavers will continue to be a dynamic leader in the ever-expanding fencing and paver industries. We work with each client from the ground up to ensure that you're fencing and paver visions become a reality. We offer the latest design technology so that you can see the final product before we do anything. It is our goal to provide you with your perfect hardscape setting!


Professional Hardscape Company
We at All Phases Fence and Pavers are your leading hardscape company in the greater Orlando, FL, region. We have a long list of very satisfied clients who now like to sit back and enjoy their outdoor spaces, new fences, and water features, with pride and comfort. Why not let us add you to that ever-growing list? Please feel free to call or stop by our office and showroom, for a professional consultation or visit our website at, www.fenceandpavers.com to view our photo gallery or many online catalogs.




Allphases Fence and Pavers Pros Repair and Installation
Do you need a fence repair done? A fence replacement? Maybe you're looking for a new fence installation.

There are numerous fencing companies on the market. For your fence (whether you're looking for new fence installation, fence repair or fence replacement) it's important to choose the best local fencing company to assure you receive the results you desire most.

Numerous companies offer fencing services. It's important to choose a company you trust that will deliver the best results. After all, your fence is a staple in the beautification, safety and privacy of any home. We want to connect you to a company that will provide the best for you and your home that will give you maximum satisfaction.

Below are different fencing options when it comes to taste, resilience, durability and customization. It's important to select a company that will not only execute your vision for your new fence but that has the experience and supplies to get the job done properly!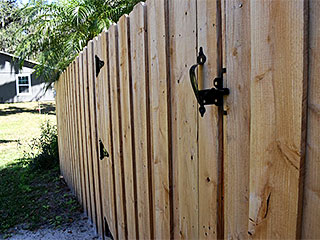 Call Today!(386) 423-9898
Hiring The Right Company
Just as every person is unique in their desires and needs so their home and fence reflect that same distinction. If you want to be the talk of your block be sure to choose a creative team that is committed to transforming your vision into reality when it comes to your customized fence. Regardless of your budget, it's important that your fencing contractors achieve the best when it comes to your customized fence!


High-Quality Fence Materials
It's critical that the materials used on your fence installment are high/quality from reputable suppliers in the market. Having basic fence materials that will last long periods is crucial. You want fencing substantials that will undoubtedly stand the test of time and every season (whether it's a vinyl fence, wood fence, a beautiful wooden pergola, aluminum fencing or a good old fashion chain link fence.) Don't settle for less when you need the best.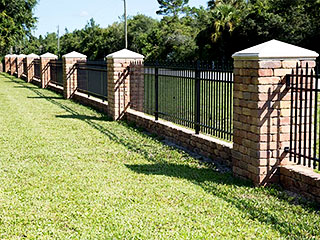 Call Today!(386) 423-9898
Your Dream Team
As crucial as it is to have high-quality materials for your brand-new fence it's just as important to have a high-quality team perform the job correctly and efficiently. There are many constructors in the market. It's worth the effort to find a company that will accomplish your project with excellence. You want a company that provides a team that will produce a fence that is appealing but also is a functional fence to meet all of your needs.


Equipment
What would an excellent team be apart from the proper appliances to get the job done accurately with your satisfaction in mind. It is important that the company you choose to create, design and install your new fence is backed up by the proper equipment. Who doesn't want the job done affordably and effectively.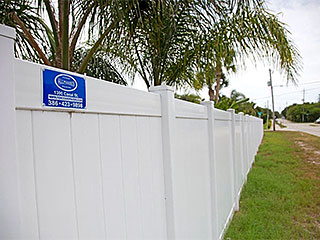 Call Today!(386) 423-9898
Main Services
When searching for an affordable fence company that is also a quality fence company in your local area there are specific services you will want to see offered marking them as a reputable company that knows the ins and outs when it comes to fence improvements, installment and fence replacement.

The following are common and unique options for your new fence!


Aluminum Fences - typically an affordable option. Durable and long-lasting. Automatic Gate Installation - Adds a touch of class to your home. Usually requires a high level of expertise.


Balcony Railings - Highly important in safety and aesthetics. With the right material you can achieve a very beautiful and stable structure.


Backyard Fence Installation - your backyard should be a private escape you can enter and feel safe with your privacy fence as you are greeted by your beautiful fence rather than unruly neighbors and/or animals.


Commercial Fence Installation - any business requires elements of privacy. Find the best security fence to keep your important documents and assets safe and sound.


Chain Link Fences - With the right company to install this fence it can be a great addition to any home or business. Especially for your pets and the beautiful backyard you want to show off!


Custom Fence - Whatever your desires are be sure to choose a company that can execute your dream fence correctly!


Fence Designs - Most people don't consider their fence a work of art. With so many fence designs and optionally available on the market today it's exciting to select a fence design that matches the personality of you and your home or business.


Fence Repair - Regardless of the level of your fence damage go with the company that is able to repair your fence successfully and efficiently.


Fence Replacement - Out with the old and in with the new! With the wide range of Florida weather it's not common to have to undergo a fence replacement. But with the right expertise you can have a brand new fence that is better than the last one and will more stable in withstanding Florida weather.


Gates - Whether it's gate installation or gate repair there many diverse approaches when it comes to your gate. Be sure the team you choose can create a gate that will be great!


Gate Repairs - If you need your gate repaired be sure the team you choose can accomplish the needs of your home.


Gate Replacement - Replacing a gate has to be done tactfully. Your gate is the entrance to your backyard. Be sure that the right people can get in and no pets can get out!


Iron Fences - Add a very classy look to your structure.


Pool Fences - It is sad but true, many children die every year because there was a lack of protection. Having your pool enclosed by a quality fence adds more value to your home in more than one way.


PVC Fences - Along with vinyl fence is an attractive and relatively maintenance-free fence. It's environmentally friendly while getting the job done in protecting your home. Typically available in many styles and colors.


PVC Pergolas - Pergolas are both elegant stately structures and charming. It's important to choose a company that has experience and expertise when installing your pergola.


Residential Fence Installation - No matter the neighborhood you live in it's crucial to have a solid fence in place to provide privacy and safety for your home first. Hiring a skilled professional to do the job ensures your satisfaction and the fence of your dreams that is long-lasting.


Security Fence - Whether you're a businessman looking to secure your valuables or a homeowner in need of an extra touch of protection there are multiple materials you can choose from a reputable fence company that will help you achieve optimal safety.


Vinyl Fences - A very attractive selection for your fence. Just like the PVC fence a cynic fence is wonderful in aesthetics, maintenance and are eco-friendly.


Wood Fences - A classic selection. Traditional options for many homeowners. Certainly capable of adding value and beauty to any home or business.


Wood Pergola - A beautiful accent to any yard. Wood pergola can be a DIY project but it is advised to hire a professional for your wood pergola installation.


Privacy Fence Installations - If your a resident in a home or a business in the city having a secured fence in place for your privacy needs can add a sense of comfort and peace to any given structure.


Common Questions
When potentially hiring a company for your fence project here are some questions you may want to inquire your fence contractor about before making your decision:


Is there a type of fence you specialize in? Wood fencing? Vinyl fencing? Aluminum fencing? A highly accomplished contractor is capable of handling multiple types of fences to meet your needs.


The amount of previous customer satisfaction the fence company has as a track record can be indicative of your potential experience with them as well.


Typically you'll get your price after your property has been evaluated. But a next-level fence company will be upfront and to the point on their prices they offer. They should always reflect the quality of service they provide.


A free estimate is common for most fence installation and fence restoration companies.


This is an important question to ask your potential fence contractor as it is telling of overall experience. The experience they will apply to your fence project.


It's good to know if the fence company you choose to install or replace your fence normally does follow-ups concerning fence maintenance as needed as well as servicing your fence.


It's wise to do your research on "who" exactly is installing your new fence. It's beneficial knowing the people providing your fence installation are experienced and qualified.
Call Today!(386) 423-9898



Anybody looking to install and new fence or replace an old fence wants the best company in the region. But not many do the research! To summarize you want to look for a fence company that has highly skilled and qualified professionals overseeing the operations. High-quality materials being used for your project. Excellent customer service accolades and quality equipment. If you want to be the talk of your block you need a fence that will set you apart in beauty and durability.

For local residents, if you're on the "fence" about whether or not a new fence installation or fence replacement is worth the investment the following are some "need to knows" about residential fencing.


What You Should Know
Residential Fencing. Not only should you feel protected within the comfort of your home but also within the comfort of your yard. As homeowners, parents and/or pet owners we also want to feel confident in the freedom and safety of our children and pets. Having the right fence for your home can make all the difference!

The most important people and items lie within the four walls of our home. The structure surrounding the area of our most valuable treasures matters. With so many options at our disposal when it comes to fence selection the following is a more in-depth look at a few common options for residential homes.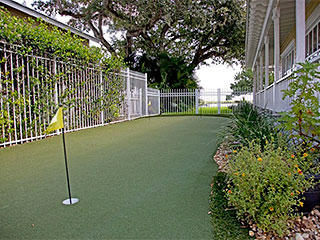 Call Today!(386) 423-9898
Wood Fencing
Wood fences are among the most popular on the market and it's no wonder why. They are lightweight, inexpensive and add a lot of visual appeal to any home or property. With the multiple designs wooden fences hold many aesthetic possibilities! There are multiple styles when it comes to wooden fences you can choose from (i.e. picket fence, vertical board, lattice, post and rail, louver... etc.) Here are some wood style fencing options that may suit your specific fencing needs.

These are great for your pool perimeters, garden and front yard. Usually on the shorter side (about 3 to 4 ft.)

These are a great addition to your home for privacy as well as noise/storm protection.

These are great for your pool deck, back patio or garden. A crisscross design that is aesthetically pleasing yet sturdy.

Best for properties with acreage. Typically inexpensive and commonly used for larger animals such as livestock.

Have openings on the sides but because of the staggered boarding it provides great privacy for any home. These are wonderful for pool decks and patios.

If you're hoping to add character and charm to your home a wood fence may be the fence of your choice!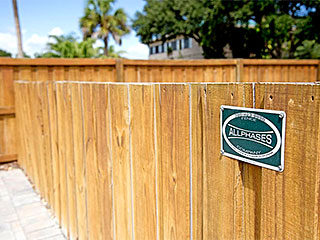 Call Today!(386) 423-9898
Vinyl Fencing
Vinyl fences are also a great option. Not quite as traditional as a wood fence they still hold their own when it comes to endurance and adornment of any residential property.

Though vinyl is "manmade" it is still environmentally friendly which makes it a great choice for those looking to accomplish multiple goals with their new fence.

One aspect that sets a vinyl fence apart from a wood fence is that pests can't harm it with its tough eco-friendly plastic qualities. This is one reason vinyl fences last so long.

Vinyl fences are also easy to clean! Which is always a bonus. They don't require much when it comes to maintenance other than occasional cleaning here and there. You can leave it alone for long periods of time and it will still be just as durable as the first day it was installed.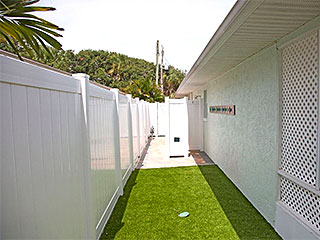 Call Today!(386) 423-9898
Aluminum Fencing
An aluminum fence is a perfect selection if you're looking for something that will last a long time. It has high corrosion resistance. Aluminum fences don't rust or bubble. They are especially useful if you live on the beach with salty air and withstand all forms of moisture.

Aluminum can be shaped into almost any design you'd like! It also comes in a multitude of different colors and can be painted after installation if you so desire. It's also lightweight making it fairly easy to transport and install. Another bonus... aluminum fences are 100% recyclable!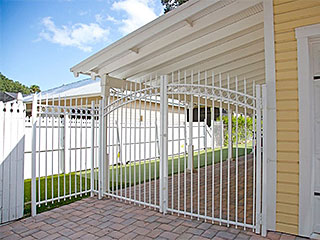 Call Today!(386) 423-9898
Chain Link Fencing
There are multiple avenues you can take with a chain-link fence. Regardless they can be a great asset to your home. Depending on your wants and needs they are a great selection and certainly add a clean feel to any yard. Depending upon the type of chain link fence specifications you choose they can be very resistant to rust, strong and require low-maintenance.

Here are 3 popular chain link fence styles:

With many options available in regards to chain link fencing be sure to ask questions and understand exactly what you're getting from your provider. A chain-link fence could be the perfect fit for your home or project.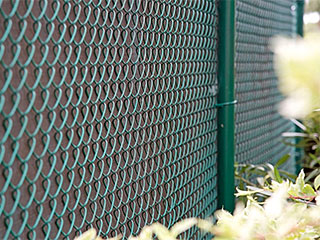 Call Today!(386) 423-9898