Landscape & Hardscape Services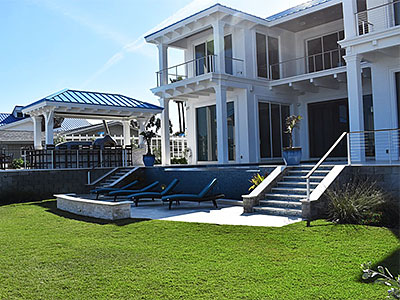 We at Allphases Fence and Pavers are a leading company in the outdoor construction industry. We are committed to providing our clients with high-grade services and work diligently to ensure that our clients get the best solutions at affordable rates. We customize every feature and installation so that you get outdoor spaces that are beautiful and right in line with your needs. The range of services we offer includes:


Pavers
Pavers are one of the most widely used products in outdoor spaces. When we are designing any landscape, we recommend the use of pavers because they are incredibly versatile. You can choose from paving stones made of natural stone, brick, or concrete. Depending on the style and design theme of your landscape, you can also mix and match the different materials to create the aesthetic and design you want. We can install pavers on patios, driveways, walkways as well as poolscapes, and other outdoor spaces. These surfaces are straightforward to clean and maintain, and last for many years without any trouble. Read More About Pavers »


Retaining Walls
If you have sloping land on your property or are dealing with soil erosion issues, constructing retaining walls in specific locations can solve the problem. We build retaining walls made of concrete masonry units, brick or natural stone depending on your preferences. These specially engineered walls provide excellent support to the landscape and make the outdoor spaces safe for use. Our hardscape designers are very skilled in providing plans and layouts that will be in line with your specific needs. Retaining walls are aesthetically appealing while providing the practicality and functionality you require. Read More About Retaining Walls »


Full Color 3D Design & Build Renderings
In landscape projects, layouts and plans are part of the design stage. However, they do not give you the perfect idea about how all the features will look if they are on paper. We create a full-color 3D design as well as build renderings in the design and planning stage. These digital renderings give you a proper visual of how your landscape will look once it has been installed. We use the latest 3D design software in our work and provide you digital images and videos of all the features that are to be installed in your landscape. It gives you the flexibility to make changes and alterations before the work begins, and this saves you time and money. Read More About Full Color 3D Design & Build Renderings »


Landscape Lighting
The beauty of the outdoor areas on your property depends on various installations. Just as softscaping and hardscaping features increase the appeal of your landscape, you need the right kind of landscape lighting to showcase these well after dark. When we are designing outdoor spaces for our clients, we include the correct type of yard lighting elements in the plans. We also provide high-quality commercial landscape lighting solutions so that the beauty of your landscape and the structure that stands on it are highlighted correctly. The use of energy-efficient LED lighting in the projects ensures you get value for money in the long term. Read More About Landscape Lighting »


Fence and Railing
Fences and railings are standard features on commercial as well as residential properties. These installations help make your property more secure while adding beauty to it as well. We can design and install different types of fences and railings depending on your specific needs and budget. You can choose from materials such as wood, aluminum, chain link, vinyl, and more. Since we customize these features for you, the final product will be perfectly suited to your property and will provide the boundary you need. We use high-quality exterior grade materials in the work so that your railings and fences last for many years. Read More About Fence and Railing »


Fire Features
One of the best ways to add comfort and warmth to the outdoor spaces on your property is to install fire features on them. We have the creativity, skill, and knowledge to design and install fireplaces, fire pits, and more. These will be custom designed to suit the styling and aesthetics of your outdoor spaces. We can use materials such as concrete masonry blocks, brick, and natural stone in these constructions. Our focus is always on creating beautiful fire feature zones in your landscape. You can choose every aspect of your fire feature design and installation so that you get elements that are right in line with your ideas and preferences. Read More About Fire Features »


Water Features
Including the water element in a landscape is a great way to balance out the softscaping and hardscaping features that exist there. Depending on the available space, your specific preferences, and design requirements, we can design and build fountains, ponds, waterfalls, streams, etc. in your landscaping. We customize these features so that your fountain or waterfall fits in perfectly with the overall theme in the outdoor areas of your home. High-quality materials such as natural stone, concrete aggregates, river rock, and more may be used in the project, and the craftsmanship will be top-of-the-line. Read More About Water Features »


Garden Features
Creating a well-balanced and attractive landscape is about including the right kind of garden features in it. When we are working on your project, we make sure that a variety of elements are included in the plans. Whether you need flowerbeds, edging, curbing, or any outdoor structures made of wood, composite, etc. we are here to help. Garden features enhance the appeal of your property and help to showcase various other aspects of it beautifully. We focus on factors such as durability resilience and design so that these garden features create the right impact in the outdoor areas of your home or commercial establishment. Read More About Garden Features »


Pergolas/Trellis/Arbors
Our company designs and installs outdoor structures such as arbors, trellis, pergolas, to fit in beautifully with the design aesthetic of your home or commercial property. These features can be installed in any area of your landscape or above your patio, deck, etc. They provide a certain amount of shade from the elements and add dimension to your landscape. You can choose from materials such as aluminum, wood, vinyl, composite, and more. The style and structure will be designed to meet your specific requirements, and every aspect of it will be customized to fit the available space. Read More About Pergolas/Trellis/Arbors »


Outdoor Design
The beauty of your landscape depends on various factors. Every area needs to be designed purposefully to provide maximum functionality and appeal to the outdoor spaces of your home or commercial establishment. Our expert design team works diligently and very closely with you on your project. They will make sure that the outdoor design they provide is right in line with your requirements. Since we provide 3D renderings, you get the flexibility to make changes during the design phase without impacting the progress of the project. We create beautiful outdoor spaces that are functional, practical, and durable. Read More About Outdoor Design »


Clean & Seal
Pavers are a very common material used in many outdoor areas on commercial and residential properties. Good quality pavers can last for decades with minimal maintenance. However, regular use, exposure to the elements, etc. can take their toll on the surfaces. One of the best ways to mitigate these problems is to get your paving stones seal-coated at least once every two years. We provide excellent clean and seal solutions for patios, decks, poolscapes, and other areas like driveways, and more. Seal-coating these surfaces protect them from exposure to climatic conditions. The application adds scratch and stain-resistance to the surfaces. Read More About Clean & Seal »


Synthetic Grass
While it is always a pleasure to have lawns in the outdoor areas of a property, it can be challenging to maintain natural grass. Exposure to extreme climatic conditions wear and tear and age can create bare and brown patches on your lawns. Not only does this make maintenance difficult but expensive as well. It's why we recommend the use of synthetic grass for landscapes. It looks very natural and appealing, and these features can withstand exposure to the elements without deteriorating over the years. We can provide you the type of synthetic grass you require to enhance the appeal of the outdoor areas of your residential or commercial property. Read More About Synthetic Grass »


3d Renderings
When you are getting your landscape designed and installed, you want to have the perfect idea about how everything will look once all the elements are in place. 2D designs do not give you a clear idea about how these spaces will look. It's why we provide 3D renderings; they are very realistic and accurate. If you want to make changes to some aspects after the installation has taken place, it can increase the cost of the project for you. Our 3D renderings are the perfect solution as you have visibility of how everything will look and can make the necessary changes in the design phase. Read More About 3d Renderings »

For any more information about our services, feel free to contact Allphases Fence and Pavers at this number-386-423-9898. You can also send us your project details or queries via this Contact Us form. One of our experts will contact you shortly to discuss your project to get it started. You can also request a free estimate via this form.